Full Control of your Environment
Shape Beams. Shift Color.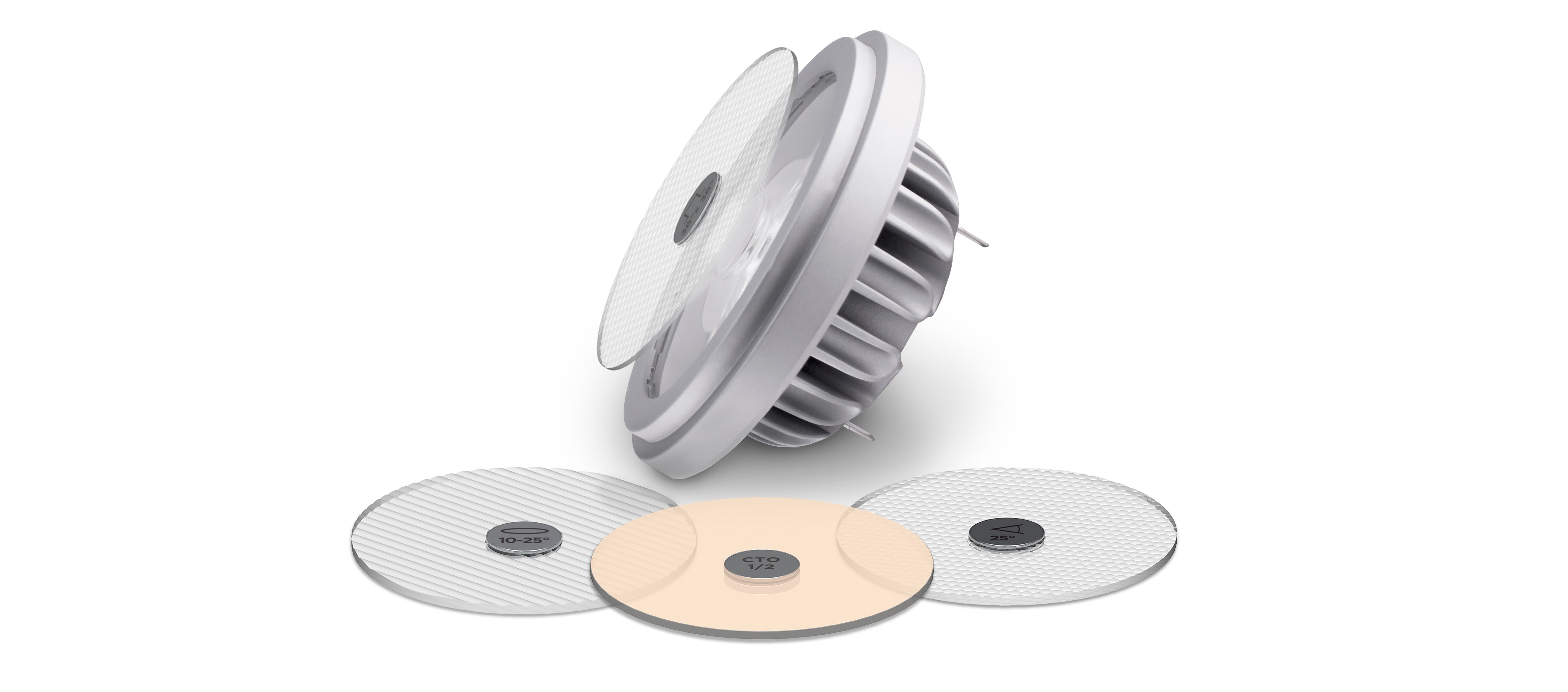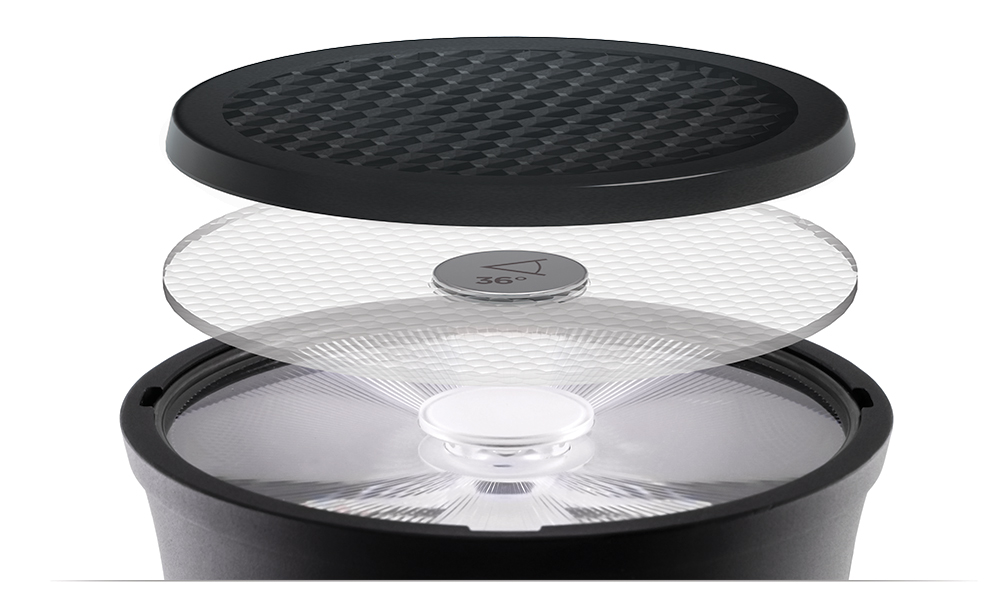 Unlimited Possibilities
Our Snap accessories are meticulously crafted to work together with our Snap compatible LEDs. Combine our single source GaN on GaN™ LED technology with an innovative set of magnetic attachment filters and lenses to completely redefine your accessory application.
Where to Buy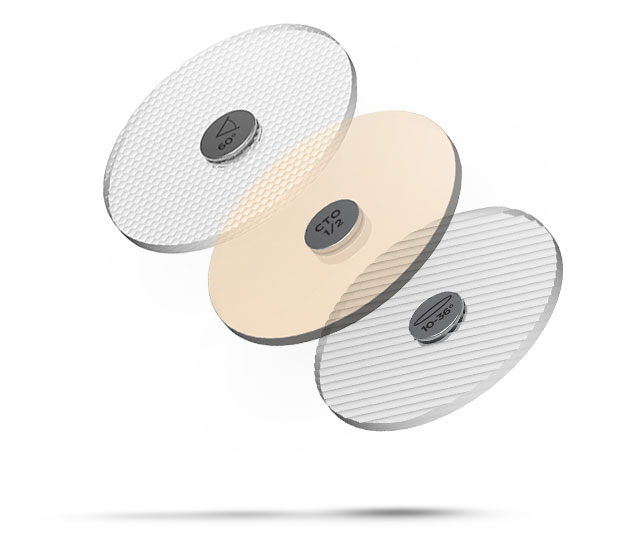 Shift Color
The Snap System's CCT Shifter filters can provide color temperatures that are rare or impossible to find, like a warm, glowing natural 2200K CCT. This provides excellent flexibility and freedom to adapt color temperatures to any installation while specifying only one lamp. Our clean light and excellent color rendering are a perfect match for CCT shifting.

The Louver Snap
Our simple louver snap eliminates high angle glare, making any light beams disappear in down-light applications.
Where to Buy
Snap System Specs
| Beam Spreaders Small | | Model # | Code | Diameter | Thickness | Spec Sheet | IES |
| --- | --- | --- | --- | --- | --- | --- | --- |
| 17° Beam Spreader | | AC-GC-1717-00-S1 | 03263 | 50mm | 2mm | | |
| 25° Beam Spreader | | AC-GC-2525-00-S1 | 00325 | 50mm | 2mm | | |
| 36° Beam Spreader | | AC-GC-3636-00-S1 | 00327 | 50mm | 2mm | | |
| 60° Beam Spreader | | AC-GC-6060-00-S1 | 00329 | 50mm | 2mm | | |
| Linear Lens Small | | Model # | Code | Diameter | Thickness | Spec Sheet | IES |
| 10° x 60° Linear Lens | | AC-GE-1060-00-S1 | 03259 | 50mm | 2mm | | |
| 10° x 36° Linear Lens | | AC-GE-1036-00-S1 | 00333 | 50mm | 2mm | | |
| 10° x 25° Linear Lens | | AC-GE-1025-00-S1 | 00331 | 50mm | 2mm | | |
| Flat Top Small | | Model # | Code | Diameter | Thickness | Spec Sheet | IES |
| 36° x 36° Flat Top | | AC-FR-3636-00-S1 | 00337 | 50mm | 2mm | | |
| 25° x 25° Flat Top | | AC-FR-2525-00-S1 | 00335 | 50mm | 2mm | | |
| Louvers Small | | Model # | Code | Diameter | Thickness | Spec Sheet | IES |
| 40° Cutoff Louver | | AC-LU-4040-00-S1 | 00339 | 51.1mm | 9mm | | |
| Aimable Small | | Model # | Code | Diameter | Thickness | Spec Sheet | IES |
| Aim Lens | | AC-AM-0020-00-S1 | 3255 | 50mm | 4mm | | |
| CCT Shifters Small | | Model # | Code | Diameter | Thickness | Spec Sheet | IES |
| 3/4 CTO CCT Shifter | | AC-CC-0003-00-S1 | 00319 | 50mm | 2mm | | |
| 1/2 CTO CCT Shifter | | AC-CC-0002-00-S1 | 00321 | 50mm | 2mm | | |
| 1/4 CTO CCT Shifter | | AC-CC-0001-00-S1 | 00323 | 50mm | 2mm | | |
| Clear Small | | Model # | Code | Diameter | Thickness | Spec Sheet | IES |
| Clear Snap | | AC-CL-0000-00-S1 | 02183 | 50mm | 2mm | | |
| Enhance Small | | Model # | Code | Diameter | Thickness | Spec Sheet | IES |
| Enhance Lens | | AC-EN-0001-00-S1 | 03281 | 50mm | 2mm | | |

| Beam Spreaders Large | | Model # | Code | Diameter | Thickness | Spec Sheet | IES |
| --- | --- | --- | --- | --- | --- | --- | --- |
| 17° Beam Spreader | | AC-E-GC-1717-00-S1 | 03265 | 84mm | 3.1mm | | |
| 60° Beam Spreader | | AC-E-GC-6060-00-S1 | 01149 | 84mm | 3.1mm | | |
| 36° Beam Spreader | | AC-E-GC-3636-00-S1 | 01147 | 84mm | 3.1mm | | |
| 25° Beam Spreader | | AC-E-GC-2525-00-S1 | 01145 | 84mm | 3.1mm | | |
| Linear Lens Large | | Model # | Code | Diameter | Thickness | Spec Sheet | IES |
| 10° x 36° Linear Lens | | AC-E-GE-1036-00-S1 | 01595 | 84mm | 3.1mm | | |
| 10° x 60° Linear Lens | | AC-E-GE-1060-00-S1 | 03261 | 84mm | 3.1mm | | |
| Flat Top Large | | Model # | Code | Diameter | Thickness | Spec Sheet | IES |
| 36° x 36° Flat Top | | AC-E-FR-3636-00-S1 | 01597 | 84mm | 3.1mm | | |
| Louvers Large | | Model # | Code | Diameter | Thickness | Spec Sheet | IES |
| 40° Cutoff Louver | | AC-E-LU-4040-00-S1 | 01151 | 84mm | 9mm | | |
| Aimable Large | | Model # | Code | Diameter | Thickness | Spec Sheet | IES |
| Aim Lens | | AC-E-AM-0020-00-S1 | 3257 | 84mm | 6.2mm | | |
| CCT Shifters Large | | Model # | Code | Diameter | Thickness | Spec Sheet | IES |
| 3/4 CTO CCT Shifter | | AC-E-CC-0003-00-S1 | 01157 | 84mm | 3.1mm | | |
| 1/2 CTO CCT Shifter | | AC-E-CC-0002-00-S1 | 01155 | 84mm | 3.1mm | | |
| 1/4 CTO CCT Shifter | | AC-E-CC-0001-00-S1 | 01153 | 84mm | 3.1mm | | |
| Clear Large | | Model # | Code | Diameter | Thickness | Spec Sheet | IES |
| Clear Snap | | AC-E-CL-0000-00-S1 | 02185 | 84 | 3.1mm | | |
| Enhance Large | | Model # | Code | Diameter | Thickness | Spec Sheet | IES |
| Enhance Lens | | AC-E-EN-0001-00-S1 | 03283 | 84mm | 3.1mm | | |