TM-30: A More Accurate Way to Measure Color
The Illuminating Engineering Society (IES) partnered with lighting design researchers and specification and manufacturing experts to design TM-30, an improved color rendition metric that more accurately evaluates the natural rendering of colors by light sources. With guidance from SORAA scientists, TM-30 is a more complete approach for measuring color accurately compared to CRI.
A Comprehensive Approach
More Science
TM-30 uses state-of-the art scientific advances in color science to measure light source rendition. As a result, it is more accurate than the traditional CRI method—especially for narrow-band spectra.
More Accuracy
The CRI fidelity index uses 8 color evaluation samples, while the TM-30 fidelity index, Rf, uses 99. TM-30 also provides more insights with the gamut index Rg, which indicates a color's saturation when illuminated by a light source.
More Insights
TM-30's color vector graphics offer additional information about saturation levels and hue shifts. Several TM-30 indices deliver more color rendering insights, including the color fidelity of reds and skin tones.
99 Color Evaluation Samples. Infinite Possibilities.
TM-30 employs a set of 99 color evaluation samples (CES) to determine fidelity for a more complete measurement of color. Optimized for real-world applications, each of TM-30's 99 color evaluation samples were selected from more than 100,000 reflectance properties for real objects.
SORAA VIVID COLOR™

Experience the natural rendering of all colors with SORAA VIVID COLOR technology
Maximizing fidelity (Rf) requires a smooth spectrum similar to natural light. SORAA harnesses cutting-edge color science as the only LED that spans the visible spectrum from violet through deep red, along with the TM-30 color rendition method and CRI, to reveal a natural saturation and precise rendering of colors.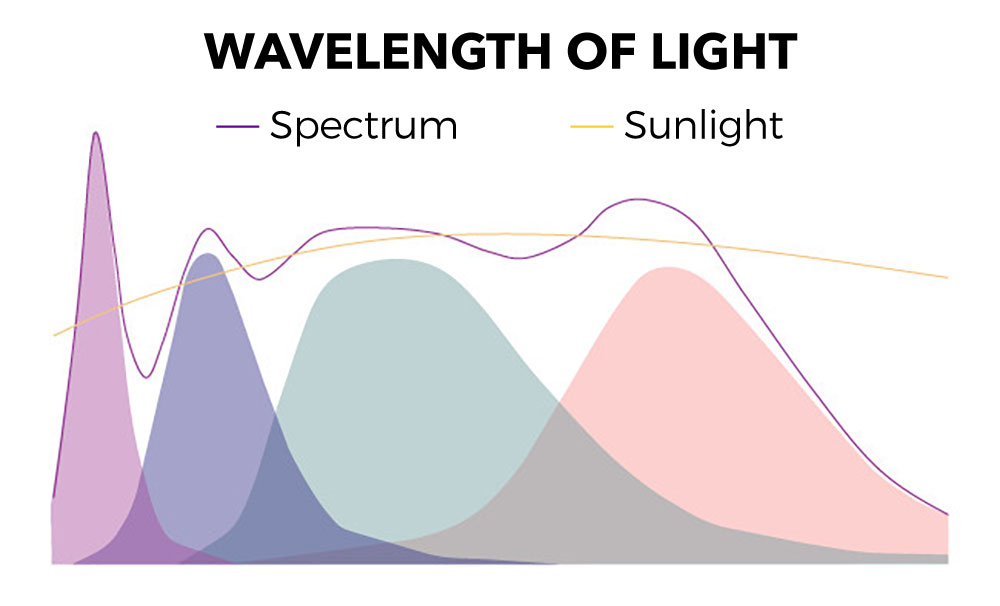 Above, sunlight with a CCT of 5000K is closely matched by our full-spectrum technology. The four peaks above correspond to the violet pump and light from the three phosphors: blue, green and red.

Discover the power of red
R9 values reach a maximum value of 100, which is similar to natural sunlight. SORAA VIVID™ has an R9 value of +95—among the highest available anywhere—thus saturating the senses.
SORAA NATURAL WHITE™
With our internally-developed whiteness rendering index, Rw, SORAA scientists also determine the accuracy of light sources to render true-to-life whites. Brighter shades of white are present in everyday products due to the proliferation of optical brighteners, including clothing, cosmetics, plastics and paper. Sunlight and incandescent lamps excite these brighteners, but many conventional LED lamps lack the technology to unleash their full potential.

Experience the natural rendering of all shades of white with SORAA NATURAL WHITE technology
SORAA's violet LEDs are engineered to render white materials with optical brighteners in the exact same way as natural incandescence. Replacing ultraviolet light with harmless violet light enables the same whiteness rendering as natural light.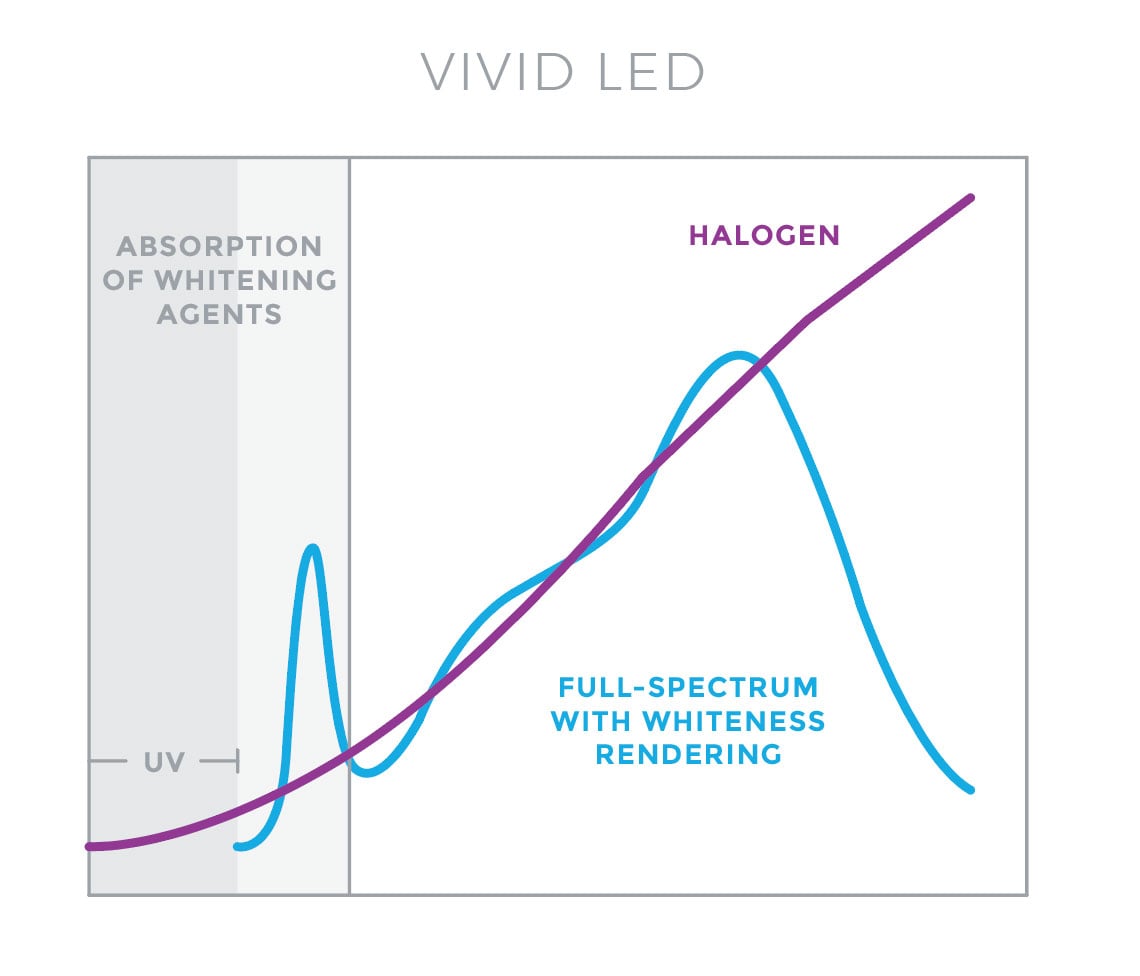 Above, halogen lamp at a CCT of 3000K amplifies whiteness by exciting fluorescing agents with UV radiation. SORAA spectra uses violet light instead to render whiteness without the harmful effects of UV.

Make a Splash: SORAA SNAP ENHANCE™ Accessory
TM-30 teaches us that while light sources can naturally render colors, they can also increase saturation. SORAA harnessed the TM-30 method and guidance from internal research on color preference to develop the SORAA SNAP ENHANCE, which is part of the SORAA Snap System of accessories for lamps and luminaires. The SNAP ENHANCE elevates the saturation of colors while maintaining other essential light quality elements, including the light source's chromaticity and accurate rendering of whites.
Stories Trending Now