Healthy
A Hotel Stay for The Senses
April 2018 - by Christopher Winter, MD
I like this
Every year, as thousands of baseball players converge on spring training centers scattered across Arizona and Florida, I participate in my own training ritual: I train to sleep in multiple hotels across the greater Phoenix and Tampa metropolitan areas.
Sleeping in a hotel can be an adventure. Sometimes the experience leaves you refreshed and ready to tackle the day. Other times, even warm free cookies in the lobby and 10,000 hotel loyalty points cannot make up for the excruciating sleep experience.
Do not leave your overnight stay up to chance. There are many things you can do to take control of the situation and actually feel great as you take advantage of the free breakfast in the morning. When it comes to sleeping well at a hotel, it's all about paying attention to your senses: noise, light, smell and feel.
Noise
Choosing the right hotel from a noise perspective begins well before you ever check in. Take a look at your hotel options on Google Maps. The satellite images can help you determine the property's proximity to busy highways as well as where the sun rises in relation to the hotel. If you are trying to get some quality sleep during your stay, early sunrise and commuter traffic might not be helpful in achieving your rest. Armed with this intel, you can also request that your hotel faces west, or away from a busy freeway. Also, it's always smart to ask for a room on a higher level, away from elevators and ice machines. Even asking for a room with empty rooms on either side of your room is not off limits!
Light
Full-spectrum light can be manipulated to every hotel guest's benefit – not only for creating natural light in sleeping and washroom areas, but for properly lighting spaces and elements throughout an entire hotel to create a compelling experience.
There can be a tremendous variation in room lighting when you stay in hotels. On this trip alone I stayed in one room with 13 lights, and one room with only two. While rooms with ample natural lighting and large windows can be helpful if you desire to be fully awake, they can make sleep, particularly when it is still light outside, difficult. For example, why generate sleepiness only to have it ruined by bright bathroom lighting when you need to brush your teeth?
Further, full-spectrum lighting can be problematic in the bedroom area when you are trying to get to sleep. When present, a high amount of blue-green light can interfere with your ability to produce the sleep-inducing chemical melatonin. While this kind of lighting might be helpful if you need to stay up late to get some work done, it can be problematic when you're trying to sleep. While many hotels imploy energy-efficient compact fluorescent lamp (CFL) bulbs with a limited blue-green spectrum, I have found many hotel rooms have unfortunate placements of full-spectrum halogen or LED bulbs directly over the bed or sink.

We must not forget that there is also an entirely different – and equally impactful – experience outside of guest rooms in hotels. In some of the hotels on my trip, the lighting was dimly lit with halogen bulbs throughout the hotel, causing me to feel sleepy and detached from the purpose of common areas such as lobby sitting areas or a spa. For example, in areas where breakfast is served, do you really want to focus your energy on starting the day in a room that instead makes you want to go back to bed? These are common spaces where, with appropriate lighting, meaningful experiences are possible: a lobby sitting area lit with natural white light may encourage engaging guest interaction that could enhance a the perceived value of a guest's hotel stay. A spa area, where the way light renders textures and colors directly impacts the desired benefits of a spa experience, finds the right balance in blue-free lighting; the eyes are able to rest, allowing the mind to achieve greater focus and a state of relaxation.
There is good news, however, as there is positive movement by many hotels toward more thoughtful and intentional lighting design as a central element of the guest experience. In the guestroom and beyond, hotels are learning how to leverage full-spectrum lighting for enhancing the beauty and color of spaces, and lights free of blue hues for areas in a space where you're resting or trying to sleep.
Smell
Hotels can have a wide array of odors – both good and, unfortunately, sometimes bad. Controlling what you smell can allow you to take a piece of home with you on the road. Since our brains tie smells most closely to memory, manipulating the scent of your hotel room can be an easy way to sleep peacefully at night. Lavender sprays have been shown in studies to improve sleep, and if you consistently use them at home, a quick spray on your hotel pillow can go a long way to a better night.
Feel
While this can be a difficult variable to control, something as simple as traveling with a pillow can be effective in achieving better sleep. A familiar pillow (and smell – see above) can produce senses of home and comfort, especially when the only pillows provided in a hotel may be too firm or too large. If a pillow won't fit in your travel bag, ask the hotel if they have different pillow sizes and types to choose from (a must if you have allergies to certain pillow types).
A final note about feel: Sleep works best when the room temperature is around 65-67 degrees, so set the thermostat properly well before you retire to the bedroom.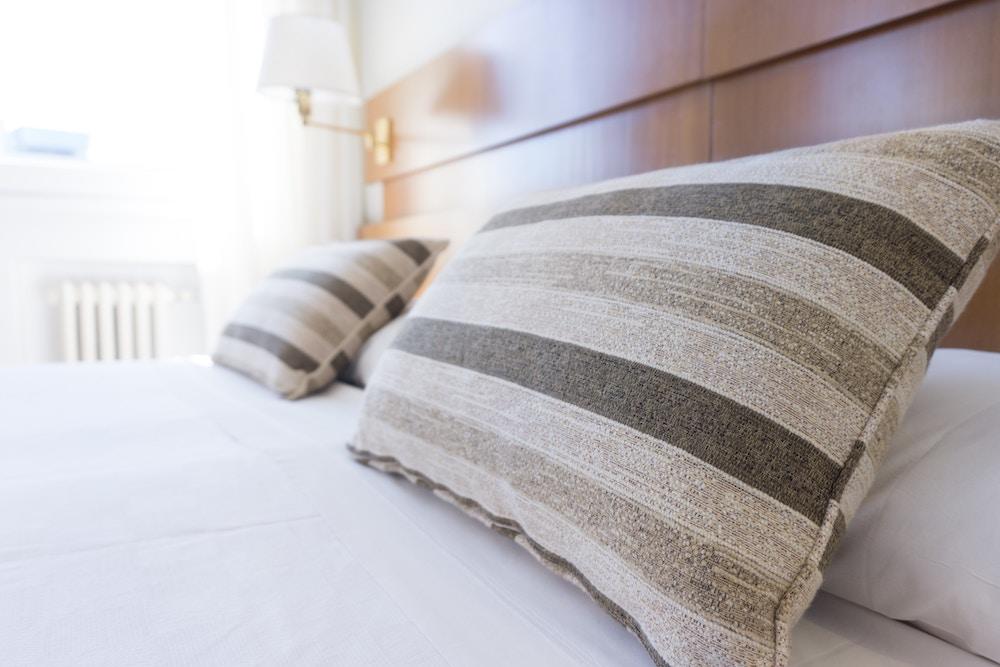 Taste
While ordering room service immediately prior to bed can be problematic for your sleep, packing some chamomile or passionflower tea can be a nice way to end the evening. Most hotel rooms have a coffee maker that can easily make hot water, along with a coffee mug. Steep some tea for about an hour before bed and enjoy positive effects the warm drink will have on your sleep.
Hotel travel does not have to be difficult. With some forethought and smart packing (a night light, a few teabags, a thin latex pillow, and some lavender spray), you will be waking up feeling just as good as you do in the comfort of your own home.
Related Products