Healthy
#LiveLight Chats: Cassie Shortsleeve
May 2018 - by SORAA
I like this
Cassie Shortsleeve, writer, editor and regular contributor to national publications like Shape, Men's Health and Women's Health, knows a thing or two about travel and healthy habits. We sat with Cassie to learn what inspires her and the role light plays in her exhilarating writing career.

Photo Credit: Celso Enrique, Salon Eva Michelle
---
SORAA: It is apparent that traveling is central to many of the articles you write. What kinds of travel destinations are the most inspiring to you?
Cassie Shortsleeve: I'm most inspired by natural destinations, particularly the ocean. Some of my best ideas come to me when I'm surrounded by water. I wrote a feature for Condé Nast Traveler online about the power of water and its ability to impact our mood, wellbeing, stress levels and more. Wallace J. Nichols, Ph.D., a marine biologist and author of Blue Mind, has done a lot of work in the space. It's truly fascinating.
I've never been a "big-city" person and I know when I'm landlocked (though I will say that the Tuscan countryside is an exception to that statement and one of my favorite places on earth). Also, while seeking faraway places to visit in different corners of the globe is amazing and something everyone should do if given the opportunity, there's something special and inspiring about those spots you can return to day after day, year after year.
---
S: What is the most beautiful place or thing you have ever seen or experienced, and why?
CS: The ocean. It's vastness is overwhelming yet brings with it a certain kind of peace that's hard to replicate. Whenever I travel, I always try to seek out the sea.
---
S: How do your own interests about health and wellness shape the topics you write about?
CS: I'm one of those people who truly enjoys exercise—I even crave it. I love writing about health and wellness. It's meaningful to me. I'm also always on the hunt for new ideas. I just ran my first marathon last month in Boston and, even though I have been a runner my whole life, I learned so much about my body and what goes into training for a distance like that. I try to share a lot of that knowledge through various articles for my clients. I'm really fortunate that my two passions—health and writing—have intersected to create my career.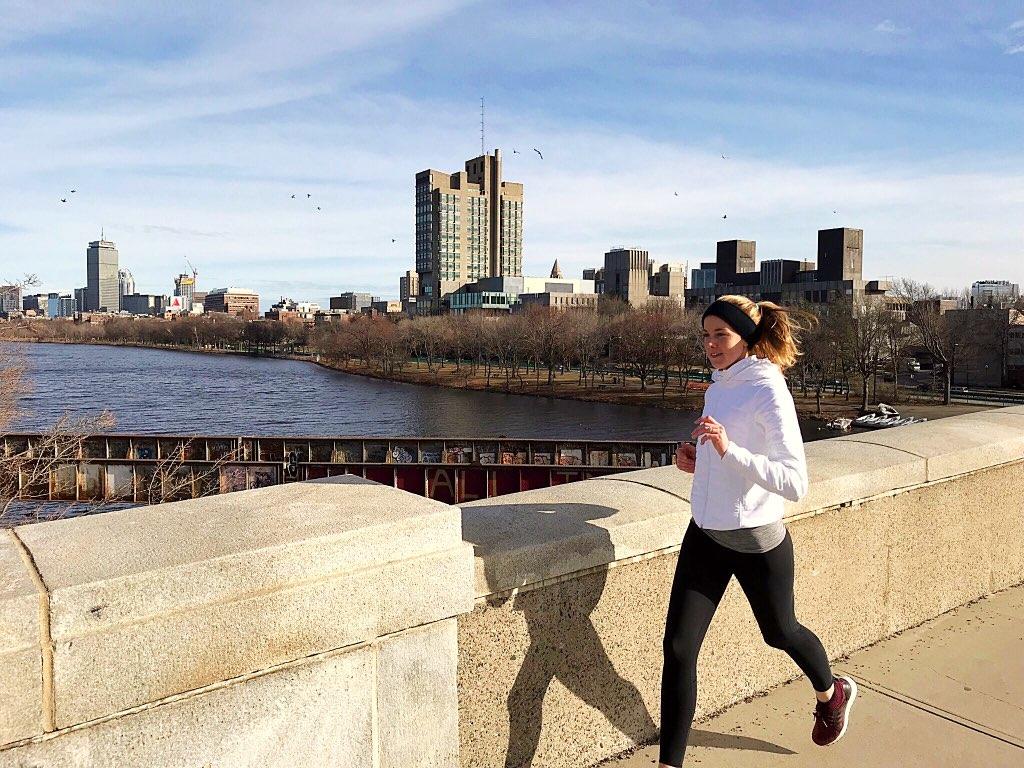 S: Tell us a fun health-related ritual you put into practice in your own life.
CS: I hardly ever go a day without a walk or a run. When I worked at Men's Health a few years ago, everyone went out for an hour in the middle of the day to bike, run or exercise. It was a really cool part of working there and it instilled in me the power of exercise as it relates to productivity, mood and energy levels.
---
S: When decorating or doing a seasonal refresh to your home, what is your philosophy on how you incorporate colors into different types of spaces (i.e., bedroom, kitchen, living)?
CS: I would say I'm pretty classic in terms of my design style. I love a room with lots of natural light, white walls and big windows. I try to incorporate color into smaller aspects of design, such as pillows, a bright chair and flowers. I also love big plants and try to keep a few around the apartment.
---
S: What about light's role in your work space or where you decide to travel?
CS: I work from home and my work space is very important to me. My husband and I have a small apartment but I have a stand-up desk that looks out a huge bay window in our living room. The natural light helps my energy levels. On busy days, a lack of light reminds me that it's almost time to call it a day!
In terms of travel, I live in New England where winters can be very long—and dark. I love it here but the past couple of years, I've taken a trip to sunny Colorado in the middle of March. Nothing beats seeing the sun when you've been missing it for months on end!
---
S: Why do you think light matters—at home, at work, for health, for the experience of a space, and even for entertainment?
CS: I think light, whether or not we realize it, is central to everything we do and feel. We naturally feel better (calmer, freer and more creative) when we take breaks and head outside. Real estate agents list "natural light" as an attractive feature for homes for sale and businesses prioritize floor-to-ceiling windows and views of a city or landscape. People instantly notice when a restaurant dims its lights and when they can see stars in a dark night, for example.
---
S: You have interviewed quite a few athletes throughout your writing career. What is the most commonly practiced discipline they use to stay in peak condition?
CS: I think the most successful athletes take their mental health really seriously. They mediate their stress levels, they groom their mental toughness and they find time for rest and recovery. Even if you have the strongest body out there, sometimes success stems back to the principle of mind over matter.
---
S: What trends are you seeing in health, travel and life habits in general?
CS: I think people are starting to rethink their use of technology and are finally understanding the implications it can have on their day-to-day live if they're not careful. The next time you're on a train, look around. You'll notice how plugged in society really is. There's a huge case to be made for putting down devices and engaging with the world around us. I'm trying to get better at that.
---
S: Is there anything else you would like to add related to light, color, beauty or general healthy lifestyle?
CS: I'm lucky that I've always been a 'good sleeper,' but sleep is such a huge aspect of health—both mental and physical—and light is such a huge predictor of how well we sleep. I think sleep is becoming more and more recognized and appreciated in today's society. I've been trying to go to bed earlier and wake up earlier. The power of a morning walk and morning light before the rest of the world wakes up is really remarkable.