Beautiful
The Healing Powers of Art, Color and Light
October 2018 - by SORAA
I like this
Artist and gallery owner Jalai Lama aims to inspire positive change with his work. Take one look at his art, and you will immediately recognize his penchant for vibrant color, natural elements and mesmerizing instances of light. His "Haleakala - (House of the Sun)", for instance, reminds viewers of the inherent beauty—and power—of one of nature's most brilliant and energizing forces. He hopes that this piece and others instill peacefulness and serenity within viewers, healing them in a sense with art.
When Lama created an art gallery to showcase his work, he installed SORAA LEDs to highlight each and every color in his aluminum and canvas prints. Customizing light beam shapes, beam angles and colors with the SORAA Snap System™ allows him to present his work exactly as he desires for maximum visual and emotional impact.
Read our interview with Lama to learn about his journey to becoming an artist and gallery owner, and how he enhances the physical and spiritual aspects of his work with SORAA.
The Path to Becoming an Artist
SORAA: What inspired you to become an artist?
Jalai Lama: Many artists and musicians inspired me. However, it was the work of abstract artist Wassily Kandinsky that truly captured my attention. He was one of my favorite artists just starting out and probably the artist who influenced me the most. I was also very intrigued by the creative expression of graffiti and street art. My curiosity with graffiti started when I was around 10 years old and I am still very inspired by this dynamic art form today.
S: How would you describe your artistic style?
JL: I don't believe I have just one style, as it is always changing, growing and evolving. Always challenging myself and pushing boundaries, I feel it is my duty to think outside the box and try new and interesting things. One of my favorite quotes from Bruce Lee is, "Seek freedom from the conformity of styles. Have no rigid system in you, and you'll be flexible to change with the ever changing."
Exploring the "Healing" Powers of Art, Nature and Color
S: Your website mentions "Jalai Lama unveils valuable knowledge of how art affects our emotions, mentality, and spiritual understanding." Can you elaborate on how your art impacts human health and wellbeing?
JL: When creating artwork, my dominant attitude is gratitude and reverence for all of creation. My intention is to infuse these positive states of mind into the artwork so each piece takes on a liveliness of its own. I always love when I hear people say they feel uplifted, energized and peaceful after viewing my work.
Studies have shown and proved that viewing art actually does enhance brain function. It has an impact on brainwave patterns, emotions, the nervous system, and can actually raise serotonin levels. Perhaps the viewing of certain artworks provide greater healing powers and even more benefits to a person than science has revealed or proved.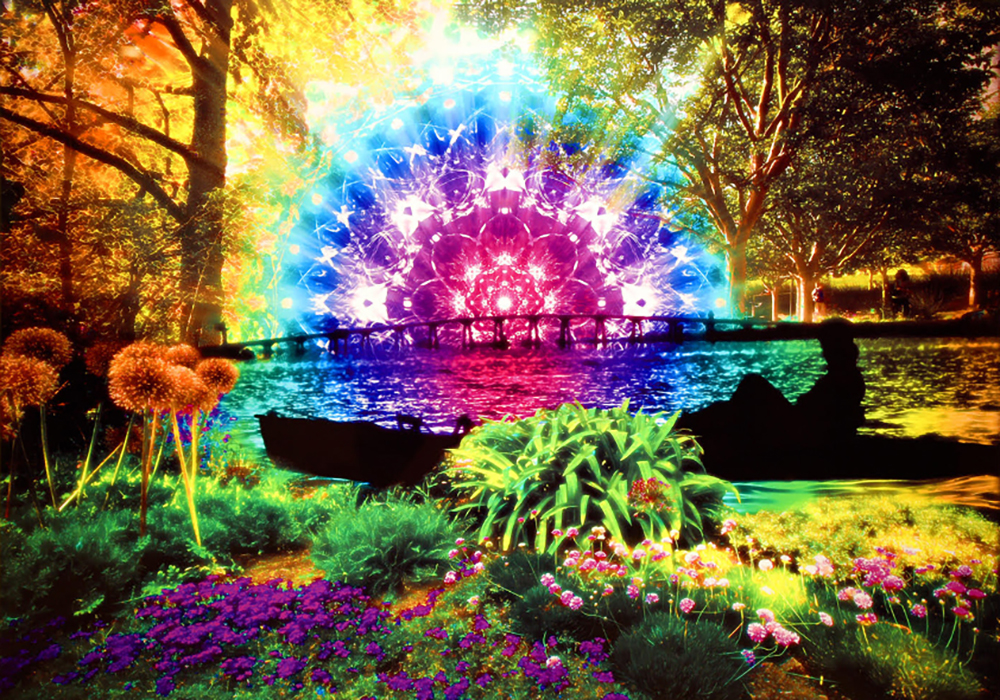 S: Does nature play a role in your work?
JL: Yes, absolutely. Nature plays such a large role in the creation of my artwork—more than I may even realize. Nature has unlimited amounts of love and wisdom to share and the more we open our hearts to nature, the more we learn and benefit. Many of my artworks pay homage to nature and the gifts of nature that we all receive.
S: What does color mean to you? What role does color play in your work?
JL: Colors fascinate me in every way. They play a very important role in my work. Colors need to be felt by the viewer in a very deep, personal and meaningful manner. Subject matter can largely influence my color usage decisions.
I place my focus on the importance of accentuating tonal variances of one color at times, and sometimes, implementing basic color theory is necessary. Knowing how to work with light and shadow is equally important to me.
Colors are opportunities. They have the potential to heal or even transform a life. They have the potential to affect a person on a very deep and personal level. Art therapy is of great interest to me and something I very much look forward to learning more about.
Accentuating Artistic Experiences with a Gallery of His Own
S: Tell us about your gallery. What makes it unique?
JL: My gallery is unique because it creates a more intimate and private viewing experience. With the gallery existing inside my Atlanta home, I will always have the opportunity and pleasure of re-creating the space in new and exciting ways. When people visit, I want them to feel inspired and hopefully I can show them something they've never seen before.
S: What inspired you to create your gallery?
JL: I would have to say the artwork itself and also the idea of having my own creative space where new ideas can blossom. I have always dreamed of having my own art gallery, and for many years, I have envisioned my artwork hanging in a gallery setting. Seeing my art as worthy and knowing that it deserves to be seen in its best light has also played a big role.
Enhancing the Visual and Emotional Impact of Art with Light
S: What role does lighting play in your gallery?
JL: As of right now, SORAA LEDs illuminate two walls dedicated to my canvas prints and one large wall dedicated to the aluminum prints. Sometimes, dimming all of the lights is needed for creating a more intimate viewing experience.
S: How were you introduced to SORAA lighting?
JL: I was first introduced to SORAA lighting by a gentleman named Shaul Zion from the Lighting Loft in downtown Atlanta. I was captivated not only by the quality and beauty of these lights, but also by the creative possibilities that exist when experimenting with the SORAA Snap System. When Shaul showed me the snap filter that created a square light beam, the wheels started to really turn and I became more and more intrigued by the different filter possibilities and configurations.
S: What do you enjoy most about SORAA products for illuminating your artwork?
JL: I would have to say the color accuracy. My whites appear the perfect tone of white and the colors light up exactly where and how they need to be. I also very much enjoy how effortless it is to snap on the different SORAA Snap System lenses. They are super easy to attach and detach, which lends itself into my creative process.
S: How has SORAA impacted the viewing experience in your gallery?
JL: SORAA LEDs allow me to illuminate the artworks as brightly as I could ever need and in all the right places. Some of my artworks require more light in certain places to intensify certain elements, so that they really pop and come alive. If done correctly, the artworks will take on an almost 3D viewing experience. For example, the MR16 lamp was highly capable and more than sufficient. The lamps illuminated the artworks in such a spectacular fashion.
Overcoming Challenges and Leaving Lasting Impressions
S: What are some of the biggest challenges to meeting your artistic goals? How do you solve them?
JL: Many times, I find myself trying to do too many things at once and it hurts the creation of a new artwork. Getting out of my own way is super important. When I feel too overwhelmed, it is definitely in my best interest to take a step back and go for a walk in nature. Finding a set time for creating art and then marketing the art has proven to be another big hurdle of mine. This is something I believe many artists struggle with and can relate to.
S: What do you want your audience to gain from your work?
JL: What don't I want them to gain would be an even better question! May my art serve as a window into the infinite creative possibilities that exist within. May my artworks unlock new doors, bring new insights and reflect the timelessness of one's inner being. May they heal and inspire where and when it's needed.